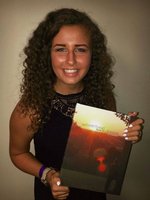 Michala Jenkins displays the 50th anniversary Central yearbook.
It's the beginning of the school year. You are given an assignment that has been fifty years in the making with one year to complete it. If you are Michala Jenkins, it is the challenge of creating Central High School's 50th yearbook.
"Being yearbook editor was one of the most challenging leadership positions I have ever been in." reflects Jenkins. "Coordinating the coverage of every school event through a staff of my peers while creating a cohesive theme to represent an entire year of memories, all while meeting deadlines, at times could be stressful. However, the reward of holding the book for the first time is indescribable. There is nothing like holding a physical representation of all the hard work that was put into one year."
The yearbook's theme is "For everything, there is a season" inspired by Ecclesiastes chapter three. The theme is also a nod to the song "Turn, Turn, Turn" – a #1 hit in December of 1965 when Central was celebrating its first blue and white Christmas.
Jenkins was supported by a revolving staff of fourteen classmates, including assistant editors Kayla McDowell, Bethany Hembree, Lucy Harrill, and Mattie Cardin. "The yearbook staff is really where the book is created from," notes Jenkins. "Each page is stamped with their handiwork and creativity, and each member brought something new to the book. "
While the yearbook records the adventures of the class of 2016, it also pays tribute to two Central legends. In the introduction, Jenkins dedicates the book to the memory of Gary Higdon, beloved English and math teacher for over twenty-five years at Central. Jenkins recalls that "Mr. Higdon was such a man of integrity that it was as tangible on his appearance as the colorful ties he wore. I am so thankful to be a part of the last class he taught at Central, and that our parting conversation was filled with laughter about his college experiences."
The yearbook also honors the legacy of Barbara Aderhold, the witty and wise English teacher and yearbook sponsor who retired after forty years of service. Jenkins describes Ms. Aderhold as having "a passion for teenagers and English that was laced into every assignment. I am so thankful to also be a part of her last class at Central and share in her laughter and humor."
The book begins with the words of King Solomon, "To everything, there is a season and a time for every activity under heaven." It also ends with words of another wise man….Dr. Seuss, "Don't cry because it's over; smile because it happened." For Michala Jenkins and her friends, they are smiling about a special time and season of their lives, "I will forever treasure the memories I made with the Class of 2016."