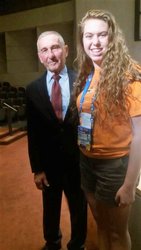 .
Erica Massaro, a Central senior, got an early start to summer vacation….because of a short story. Back in March, Massaro wrote the short story "Electric Cooperatives: Going Beyond the Wires." In her short story, Allison is a high school girl who is eagerly looking forward to an evening with friends eating ice cream. Her plans are ruined, however, when a devastating tornado sweeps through the town, destroying homes and the school. Out of the ruins, the workers of the local electric cooperative step up to restore electricity, volunteer their time, and distribute food and water to the clean-up volunteers.
Massaro's short story won the prize of the Volunteer Energy Cooperative's Washington Youth Tour: an all-expense-paid trip to Washington D.C. Massaro joined two hundred other students and chaperones from Tennessee to visit Washington where a total of 2,300 students had gathered.
Massaro recalls that her favorite place to visit was the Smithsonian National Museum of Natural History with its massive collection of carefully preserved animals and gems. At the Smithsonian National Museum of American History, she saw a variety of American culture from elegant dresses of the First Ladies to the boxing gloves of the champ Muhammed Ali.
At the National Archives, Massaro saw up-close the faded originals of the Declaration of Independence, the Constitution, and the Bill of Rights. Meanwhile at the U.S. Capitol Building, she met with the Tennessee delegation.
On Saturday evening, Massaro visited every monument except the Jefferson monument. Her favorite monument was the World War II Memorial due to its unique appearance and creative design with granite columns representing each state and territory and 4,048 gold stars, each honoring a fallen hero.
Outside of Washington, Massaro toured Mount Vernon, the home of George Washington. "I absolutely love the views there," Massaro says, "The house was built on a hill that overlooked a lake. There was a walkway that lead to the lake and the boat dock."
Massaro was able to tour Washington because of a short story she had written. There she and thousands of other students saw the complex story of America from the struggle of Independence to a horrific Civil War to World War II that freed the world, and to the Civil Rights Movement that freed the nation from its past. With youth like Massaro, America's greatest chapters are yet to be written.
Photo Caption: Nat Shaffir, an 81-year-old Holocaust survivor, stands by Erica Massaro, a Central High School senior, at the United States Holocaust Memorial Museum. Shaffir speaks at the museum once a week about the horrors of the Holocaust, and how he overcame it.